State-of-the-art renovated building to showcase net-zero building methods to serve as a living laboratory for emission reduction
SALT LAKE CITY — MAY 3, 2022 — Today, Utah Clean Energy, a nonprofit leader in climate solutions, announced the public phase of their capital campaign to build the "Climate Innovation Center" in downtown Salt Lake City. When completed, the Climate Innovation Center will have renovated a 70-plus-year-old building to become one of the city's most high-performance, net-zero buildings.
"This is an incredible milestone in Utah Clean Energy's mission to lead and accelerate the clean energy transformation," said Sarah Wright, Utah Clean Energy's founder and executive director. "This building will be so much more than an office. It will be a hub for climate solutions and a showcase project demonstrating how to build and renovate climate-friendly buildings."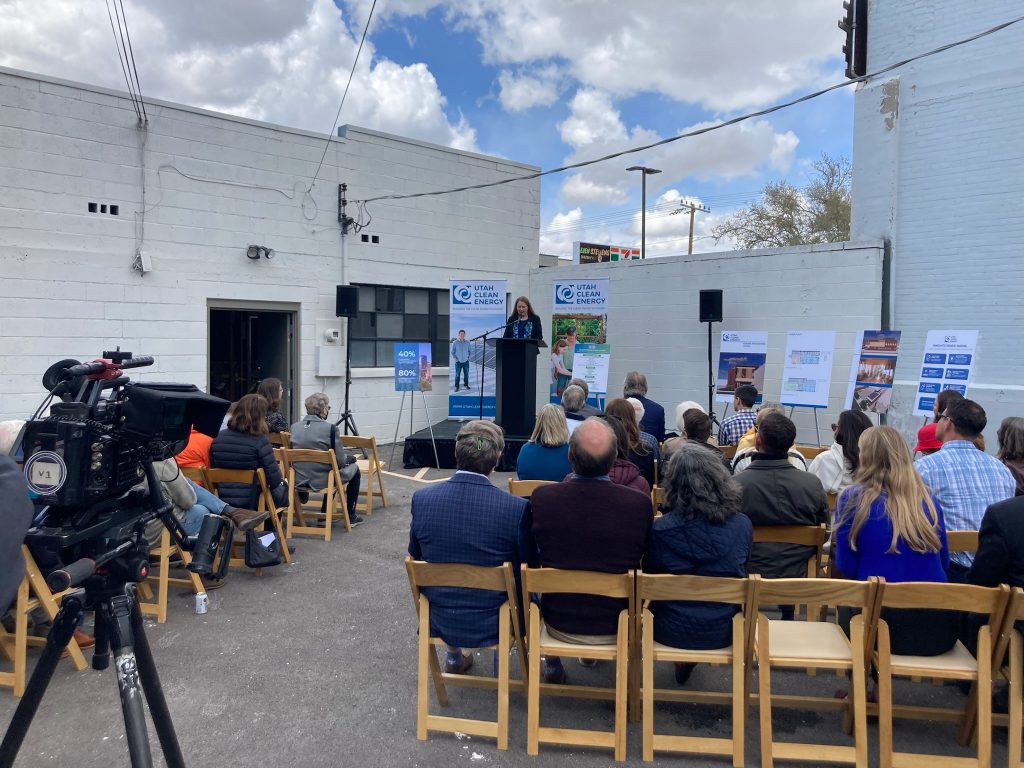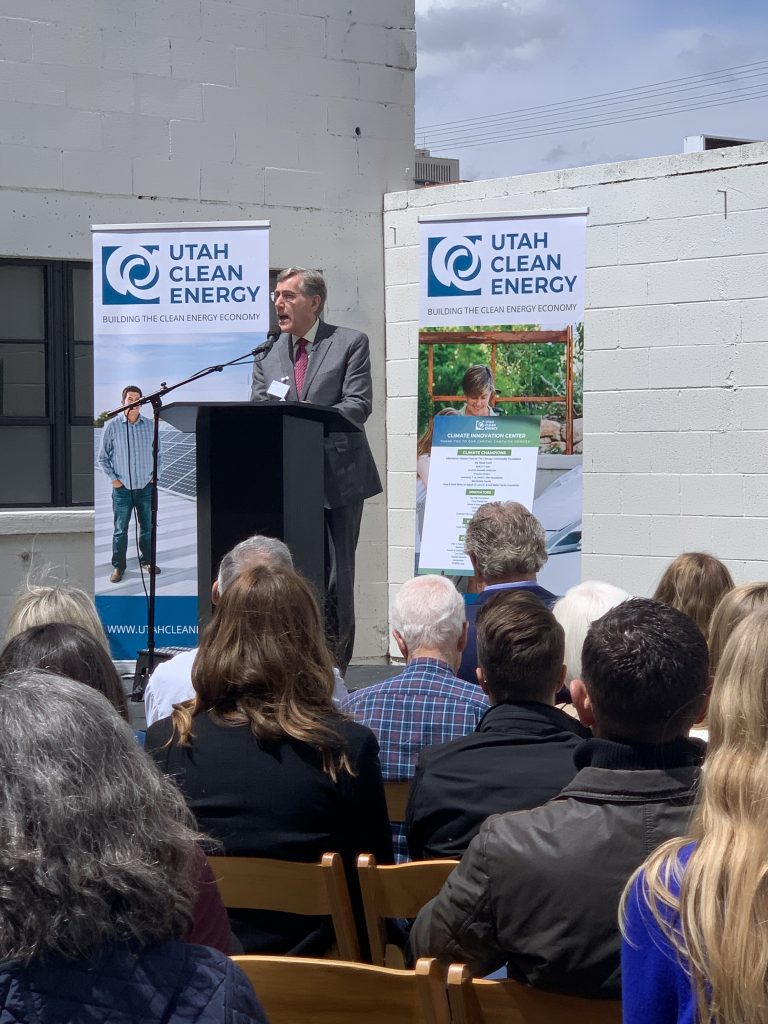 Energy used in our existing homes and buildings contributes up to 40% of U.S. energy-related greenhouse gas emissions, but those emissions can be drastically decreased by renovating building stock to be ultra-energy efficient. In addition to serving as the organization's headquarters, the Climate Innovation Center will serve as a living laboratory that will educate the public and the business community about the tremendous role that buildings have in solving our climate crisis, and the ways to renovate and build for a healthy climate. Details of the building retrofit, the building team, and catalyst committee can be found at https://utahcleanenergy.org/climateinnovationcenter/
"We have the tools and technology to dramatically reduce emissions, and this building is an excellent example of implementing those tools to better our community," said Scott Anderson, president of Zions Bank and honorary co-chair of Utah Clean Energy's capital campaign, who spoke at the event. "I am proud to be a part of this project and hope that we see more buildings following in the footsteps of the Climate Innovation Center."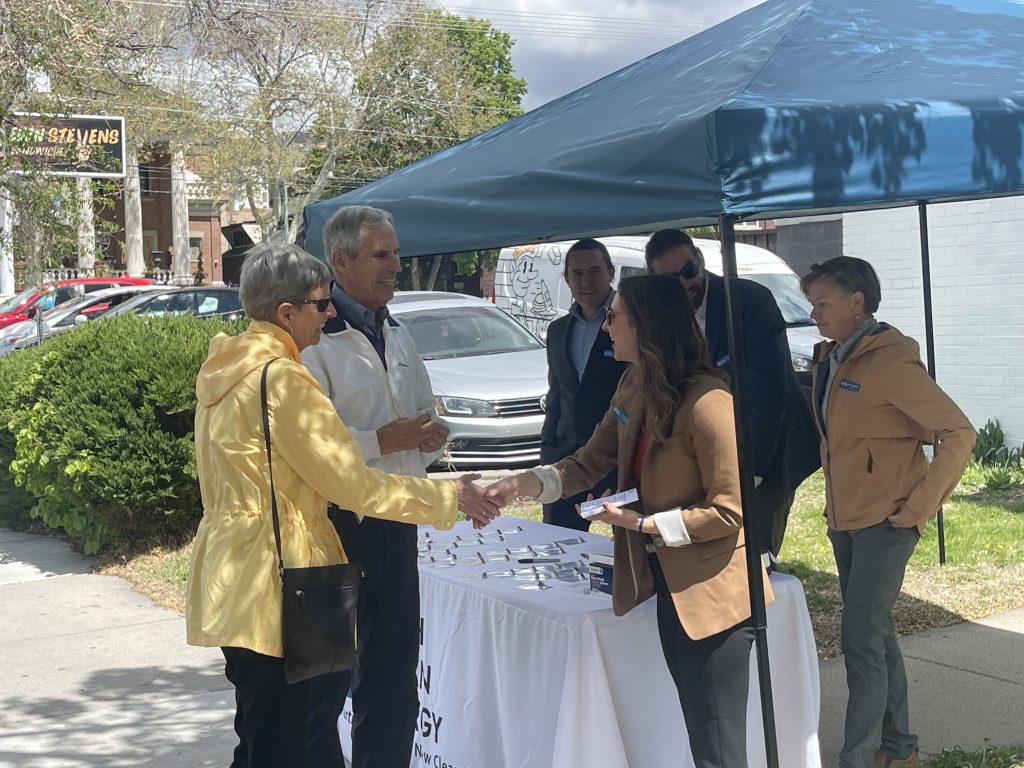 Today's announcement comes at a turning point in the efforts to bring the Climate Innovation Center into fruition. To date, Utah Clean Energy has raised over 70% of the total fundraising goal for the building. Thanks to support from inaugural donors (see donor list in press kit), the building has been purchased, and demolition has begun with full construction expected to begin in the fall of 2022.
"Our family and company are invested in Utah's future and that means ensuring that our planet remains a healthy and viable place to live and grow," said Greg Miller, vice-chair of the Larry H. Miller board of directors and honorary co-chair of Utah Clean Energy's capital campaign. "My hope is that this building is a beacon for accelerating energy efficient and high performance building retrofits across Utah."
The event was highlighted by the filling of a time capsule by attendees, who were invited to add a note capturing their vision and hopes for a healthy future. The capsule will be opened 20 years later, in 2042, at which time future generations will have the opportunity to reflect on the progress made in mitigating climate change.
Utah Clean Energy is celebrating their 20-year anniversary this year. What began as a small group of volunteers in 2002, Utah Clean Energy has grown into one of the state's leading advocates for climate change awareness by leading the clean energy transformation with vision and expertise.
Learn More About the Climate Innovation Center: https://utahcleanenergy.org/climateinnovationcenter/
# # #
About Utah Clean Energy
Utah Clean Energy is Utah's leading, expert, public interest organization working to accelerate renewable energy, energy efficiency and decarbonized buildings in a way that is beneficial not only for Utah's environment and health, but our economy and long-term energy security. Utah Clean Energy is committed to creating a future that ensures healthy, thriving communities for all, empowered and sustained by clean energies such as solar, wind and energy efficiency. For more information visit www.utahcleanenergy.org.