Charging an electric vehicle (EV) in Utah is about to get a lot easier thanks to a 50-million-dollar investment recently announced by Rocky Mountain Power! The Electric Vehicle Infrastructure Program ("EVIP) will build new fast-charging stations, offer incentives to Utahns installing a home charger, and provide grants to expand access to EV charging to multi-family housing developments. Utah Clean Energy's electrification team spent months working with Rocky Mountain Power and other stakeholders to create an EVIP program that will dramatically expand access to electric vehicle charging across Utah. EVs produce no tailpipe emissions and help conserve our airshed, making this investment a major win for air-quality in Utah.
Set Your "Range Anxiety" Aside 
One of the most common concerns with an EV is being able to charge-up when out and about.  More and more, this is becoming a non-issue. On average, most cars (electric or gas) don't drive more than 40 miles in a single day, and EVs can charge overnight at home. Nevertheless, the lack of public charging stations remains a barrier to EV adoption. Through the EVIP, Rocky Mountain Power plans to double the amount of fast chargers available to Utahns, but that's just scratching the surface!
Digging Into the Details of Electric Vehicle Funding
There are three major components of the EVIP:
RMP-owned and operated stations
Make-Ready Infrastructure Grants
The preservation of existing residential and workplace charging incentives.
New Fast-Charging Stations 
RMP will own and operate 20 DC fast-charging stations throughout its service territory and its customers will receive heavily discounted charging, as low as .22 ¢/kWh. RMP customers receive heavily discounted charging at RMP-owned stations.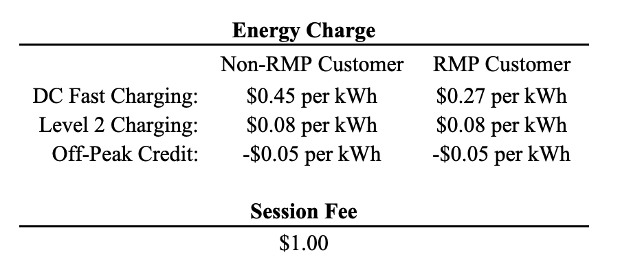 Grants for EV Charging at Multi-Family Housing
The ability to charge at home is vital for any EV owner, so if you live in an apartment or other multi-family housing, it's unlikely you have at-home charging options. In an effort to bridge this gap, the program will offer approximately $20 million in grants for Make-Ready Infrastructure. These grants help cover the significant up-front costs of installing EV charging, such as system upgrades, trenching, and cabling. These types of grants are crucial for multi-family housing developments that rarely offer EV charging to residents due to these hefty costs.
Portions of the Make-Ready grants will also be used to electrify the Utah Inland Port project as well as the Point of the Mountain development. Rocky Mountain Power has committed to working with both of these entities to plan our their distribution systems and maximize the benefits from increased electrification of our transportation sector.
Incentives For Home Charging
Finally, the program preserves a $200 incentive for residential customers who install an EV charging station at their home. In addition, Rocky Mountain Power is expanding its time of use pilot to all customers who own an EV. In 2019, customers who participated in the time of use pilot program saved approximately $390 per year in energy costs, so it is great to see that all EV owners will be able to adopt a time of use rate in the near future.
Utah Clean Energy is proud to see RMP taking a concerted effort to electrify our transportation sector and we look forward to working with them, and other partners to maximize the electrification of our transportation sector.
By the Numbers
A $50,000,000 investment in transportation electrification.  Rocky Mountain Power will develop 20 DC Fast Charging stations throughout its service territory, each with multiple charging ports.   
RMP customers receive heavily discounted charging at RMP-owned stations.   
Approximately $20,000,000 will be offered to RMP customers via "make-ready" infrastructure grants.1  
The program preserves the $200 rebate for the installation of a residential EV charger.